Emma Thompson as Trelawney?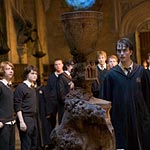 Oct 04, 2003
Uncategorized
The Herald-Sun in Australia reports that Emma Thompson has signed on as Professor Trelawney in PoA. (Thanks, M, for the forward!) The article also has a few quips about the actors' current accomplishments and pasttimes:
"I love my cars," Tom Felton, who plays Draco, told the Sunday Herald Sun.
"I have a black BMW 316 Estate for my training car while I'm 16 and I'm looking at getting a 1.8 sports coupe for my first proper car."

Draped in a gold necklace and matching bracelets, with hip polo shirt and trainers, Felton looks more like a big-time street rapper than the Hogwarts bully.

No less sophisticated is Daniel Radcliffe, who plays Harry Potter. At 14, one of his favourite movies is the raunchy R-rated Y Tu Mama Tambien Alfonso Cuaron made before he took over directing duties at Hogwarts from Chris Columbus.

He named Jane's Addiction, the Libertines, Rage Against the Machine and the Darkness among his favourite bands.

Rupert Grint, 15, who plays Ron Weasley, is a crack pool player — he has a table in his dressing room — who has taken up golf.

And Emma Watson (Hermione Granger) loves dancing: "While I'm here, I have lessons — modern, street, body popping, break dancing and that. Back home I just hang out with my friends."

But, at 13, what appears to thrill Emma most is that she is no longer the shortest of the three main characters. "After all these years of being the shortest, Dan has come to face the fact that I'm taller than him," she said.

"By half a millimetre," Radcliffe pointed out.