Emma Watson Interview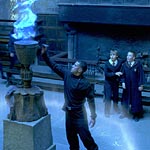 Dec 04, 2003
Uncategorized
The December issue of the French magazine ONE has an interview with Emma Watson, which Winky from PotterWorldOnline has kindly translated for us. Our thanks to her!
Scan One
Scan Two
[TLC NOTE: Winky asked us to clean up any of her translation mistakes. We think she did a wonderful job, but do keep in mind the original interview was not in English, so specific words/phrasing may not have come across exactly (also keep in mind that Kristin, who did the cleaning up, doesn't speak French :). Thanks again to PotterWorldOnline!]
Whereas "Harry Potter and the Prisoner of Azkaban" will be release on French screens in June 2004, we tried to have some information on this third opus from Emma Watson. Although she has to keep the secrets, the young actress delivered us some insight into her character's evolution.
ONE: Can you told us how is this third film going? Some interesting revelations?
EW: You know perfectly that we have to keep the secret and that I cannot tell you some great revelation. All that I can tell you is we're all very excited about the shooting and that all is going very well. Daniel has especially loved doing the scenes with the hippogriff. As for me, settled my accounts with Malfoy was a real pleasure. I think the fans will appreciate…
ONE: Can you tell us your relations with Daniel Radcliffe and Rupert Grint. Who are they really for you?
EW:More than friends, they've become like brothers. Or sisters, I don't know… [laughing] In fact, I don't see them like normal boys. I mean that I cannot imagine me going out with one of them. For me, they are like my best friends. I can laugh and talk about everything with them without any taboo. I really like them a lot.
ONE: How would you react if Hermione suddenly fell in love with Ron or Harry? You would be obliged to kiss Daniel or Rupert at the screen…
EW: I really hope, sincerely, that J.K.Rowling won't do a thing like this to me! [laughing] Even if movies kisses have nothing in common with real kisses, I would be terribly embarrassed all the same… Nevertheless, sincerely, I would be very surprise if something like this happened. I cannot see Hermione going out with one or the other. In any case, for me, this is not in my contract… So, if I have to kiss one of them, I'll resign! [laughing]
ONE: If Hermione doesn't fall in love with Ron or Harry, with whom do you see her?
EW: In my opinion, I really hope she won't going out with anybody, 'cause I don't want it to happen! Nevertheless, if she had to have a crush on a guy, I think he would have to be very serious, very academic. Why not a Hogwart's teacher?! I think this would be perfectly appropriate to her. But she would be, without doubt, very embarrassed with the age difference…
ONE: What do you think about the evolution of Hermione? Do you fell like she seems more like you as the movies go on, or is it the opposite?
EW: Personally, I think Hermione is getting better as she grows up… First of all, she's less and less serious and obsessed by rules, and that's a good thing. In the first film, I didn't like her sneaky side… From now on, she's not obsessed anymore by homework and school success, she's less stressed. In this way, she looks more like me as the films go on, and I really like it. So it's easier for me to enter the character.
ONE: In "The Chamber of Secrets", Hermione had a definite role in the intrigue, almost as important as Ron or Harry. According to you, will that be even more true in the next movies?
EW: As I was saying to you, Hermione has changed a lot, and she holds great surprises for us. Even she's still a very serious, she's less and less timorous and don't see her hesitating anymore to follow Ron and Harry in their adventures. Moreover, in my opinion, Hermione would love to be a heroine. She would be so proud… The problem is she don't want to have problems, which is not always compatible with the job of heroine… We'll see.
ONE: As for you, in which way did your life changed since you play the part of Hermione?
EW: My life hasn't changed so much as I imagined. When the first movie came out, I though nothing would be the same after, thatIi would begin a new life. It was scaring me in fact. Finally, everything went slowly, softly. The only difference is that I'm always far away from home, because we are often abroad for the movie promotion, giving interviews, taking promotional pictures etc… That does not disturb me, it's a part of the job. As for my private life, I kept the same friends, but now, they see me as the most famous witch in the world, which is not very easy to assume… [laugh]