Mike Newell on GoF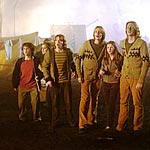 Dec 09, 2003
Uncategorized
In SciFi.com:
Production of Harry Potter and the Goblet of Fire will begin in late April or early May, with Daniel Radcliffe (Harry), Rupert Grint (Ron) and Emma Watson (Hermione) reprising their roles. "They're all actually the age they are in the story," Newell said in an interview.
"What Alfonso has done very remarkably is he's developed the films from a sunny vision of childhood into something that is much darker and blacker," Newell said. "And he's done that without taking away any of the romance of the thing.
Thanks to the many readers who sent in the link.