Buckbeak Makes an Appearance in Glencoe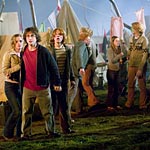 May 19, 2003
Sandra emailed us this article from a local paper in Glencoe with some great details about the filming:

Warner Brothers has been inundated with requests from kids and parents to be extras on set during the location shoot in the gloomy glen.

Warner Brothers' spokeswoman Vanessa Davies said yesterday: "We would say to children or adults who want to come along: 'Please don't think
there's any chance that you're going in the film'.
"We are getting calls from kids or parents or schools asking if they can come along to the film set and be extras.
"We do not have any need for them. We just don't want children to come along and be disappointed.

Today (Thursday) 40 local schoolchildren who have parts as Harry's disciples are hoping the cameras will capture them in Glencoe.
The 20 boys and 20 girls, all aged 13-14, who will be dressed in wizard and witch costumes are all agog at the prospect of their screen debuts.
They will feature mainly in the Sundial Garden outside Hagrid's Hut.

Towering above the hexagonal hut and the Sundial Garden, which now has its Pumpkin Patch and Scarecrow in place, is a turreted gatehouse and a staircase which leads through an Archway to Nowhere.
However, there was some last-minute battling against the elements – and the slopes – to get a series of Standing Stones – to actually stand.
And a few days ago Harry's "Hypogriff" [sic], the half-bird, half-horse contraption on which he rides majestically around, was moved onto the Glencoe set.
This is understood to be the most expensive piece of electronic gadgetry ever used in a film – and that's including the complicated technology so beloved of the James Bond moviemakers.
So it looks like the Sundial Garden is the primary location behind Hagrid's Hut where he teaches Care of Magical Creatures.