Reminder: US Contest to win trip to Rowling Event in UK Deadline Today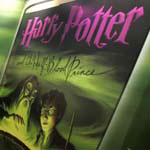 May 21, 2003
Thanks to Laura for the reminder – those of you who are not yet 18 and are planning on entering the Scholastic Essay Contest to win an all-expense paid trip to London, England to hear J.K. Rowling answer questions and read from her new novel…need to have your entries postmarked by today. This means take an envelope to the postoffice and have them mark it with today's date.
Here's the details you need to know:
The Question: "If you could have one special power taught at Hogwarts, what would it be and why?
It must be on an 8 1/2 x 11 sheet of paper.
It must NOT exceed 300 words
All entries must include your name, address, age, gender, telephone number, name of the school you attend
You MUST also print and send this signed parental consent form along with your entry.
Mail the entry and form to Order of the Phoenix Contest, Scholastic Inc, 557 Broadway, New York, NY 10012
Entries MUST be received by Scholastic by 5pm EST on May 26, 2003 – that's this coming Monday.
You must be under the age of 18 yrs as of today, 5/21.