Scholastic Announces Contest Winners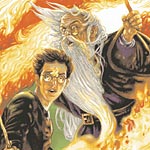 Jun 11, 2003
The winners are in and 10 lucky teens will be travelling to England to hear J.K. Rowling live at the Royal Albert Hall.
David Dawson, 14, St. Petersburg, Fla. – To acquire the power of mending a broken heart due to his mother's passing.
Daniel Boyce, 8, Camarillo, Calif. – To cure autism, which his sister has.
Angela Wyse, 14, Tecumseh, Mich. – To learn Memory Charms to avoid embarrasing situations.
Brittany Hawkrigg, 16, Bohemia, N.Y. – To learn healing to help those who need it, including her father.
Nancy Chen, 14, Tulsa – To use the Rictusempra and Tarantallegra Spells to help the world take themselves less seriously.li>
Thomas Pardee, 15, Modesto, Calif. – The summoning charm for laziness.
Marty Cain, 12, Marlboro, Vt. – EVOLOUTIO REPARO (Repair Reading) to let his older brother read.
Emily Grayson, 8, Brownsburg, Ind. – To make the polyjuice potion to learn about what it's like to literally walk in someone else's shoes.
Louisa George, 11, Rexburg, Idaho – To find the true magic within herself.
Sudipta Bandyopadhyay, 16, Somerset, N.J. – To cure a dying heart.