British Teacher to Attempt World Record Speed Reading of Book V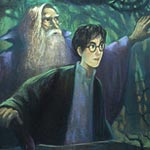 Jun 12, 2003
Uncategorized
We received the following press release this morning:
Anne Jones, a Leicestershire schoolteacher who is the Mind Sports
Olympiad World Champion at Speed Reading, will devour the new Harry
Potter book starting at 12.01am BST on June 21st. She is expected to
read the entire book in approximately 2 hours. When she has finished
reading the book Anne will be tested with several questions in order to
determine her percentage recall accuracy and hence her effective reading
speed. This is an attempt to break her own record of 1,347 words per
minute. Competing with Anne will be 9 of her own pupils, all teenagers,
some of whom have recently been clocking speeds better than Anne
herself. Extensive press and TV coverage is assured.
The Harry Potter speed reading will take place in Books etc., in the
Printworks, Manchester.