Paxman Interview Teased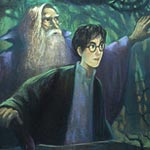 Jun 13, 2003
Uncategorized
Thanks to the readers who have sent this in – there's a commercial about the Jerry Paxman BBC interview circulating on television – here's what it says:
JP: There's a death in the next book?

JKR: Mmm-hmm

JP: The death of a significant character?

JKR : Yes

(JKR holds up a copy of Book 5, Bloomsbury edition, which looks very thick)

JP: Can we see inside?

END
The interview will air on Thursday, June 19, at 7:30 on BBC2.
Is it here yet?