Daniel Radcliffe to quit after PoA?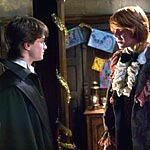 Jun 14, 2003
That's what that Daily Mail says today:
HARRY Potter star Daniel Radcliffe has revealed he will never again play the schoolboy wizard.
The 13-year-old actor said he wants to concentrate on his GCSE studies.

Daniel's decision means he will not be involved with the fourth film of the series.

He is currently filming the third Potter movie – called The Prisoner of Azkaban.

Daniel has told friends he is concerned that his education may suffer because of his acting work.

And Warners, who produce the films based on JK Rowling's books, have been prepared for some time the youngster's exit.

Several possible replacements have already been given auditions.

Daniel's departure casts doubt on the future of the other Potter stars Rupert Grint and Emma Watson, who play Ron Weasley and Hermione Granger.

Sources say Warners may be forced to sweep the board with the next cast list – and ditch both actors.

Daniel earns an estimated £2 million from each of the Potter films.

Last year he was enrolled at the private City of London School, one of Britain's best.

Daniel plans to go to university after

The actor's mother, casting agent Marcia Gresham, told the Daily Mail her son had yet to reach a final decision.

But a schoolfriend said: "He wants to call it a day – and he's making no secret about it."
Keep in mind that his mother said he wasn't sure yet. But…wow.