Future Films to Avoid Scottish Highlands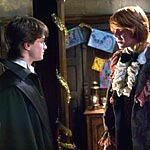 Jun 03, 2003
It appears that the rain and bugs have been too much for the cast of the Potter movies. Much of the big set has had to be moved indoors back in London and it sounds like future movies might be filmed elsewhere.
The Express also chimes in – here's some interesting highlights
Heavy rainfall has made access to Hogwarts Bridge, a £150,000 prop constructed on a hillside, so dangerous that set builders have been ordered to dismantle it and transport it to an indoor studio in the south of England.

Robbie Coltrane, who plays Hagrid, and Daniel Radcliffe (Harry), were to have been transported to the bridge with other child stars up a steep hill on a snowcat. But the terrain is now judged too sodden for the cast and crew to make the journey.

A source at Warner Brothers, the company making the movie, said: "Two more Potter films are planned and a double for book six.

The film crew had to dam a stream to provide a reservoir of water so that they could produce rain when they wanted it, using a special machine.

They now concede that in Scotland it was tempting fate that wee bit too far.
Interesting – double movies for Book Six ?? What about the lengths of Book 4 & 5?