A Potter Reading For Fans In Melrose, MASS.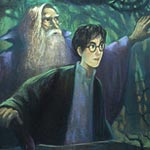 Jul 11, 2003
Posted by Melissa Anelli
As of Thursday, July 10, at 7 p.m., Tug Yourgrau – Tony award nominated playwright, TV producer and radio actor – will read selections from "Harry Potter and the Order of the Phoenix" at the Melrose Public Library. This program will continue on weekly with Yourgrau reading on Thursday evenings in the children's room on the lower level of the library.