On the Next Movie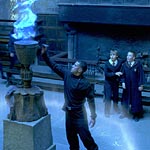 Jul 27, 2003
Uncategorized
From Newsweek, an article on Harry Potter and the Prisoner of Azkaban, with photos of Emma Watson, Daniel Radcliffe, and director Alfonso Cuaron:
"Azkaban" is the puberty movie in the Potter franchise-the one, says Emma Watson, who plays Hermione, in which "all those lovely, lovely hormones start coming out." How will the movie reflect the changes afoot? "Lots of sex," says Alfonso Cuaron, the Mexican director who's taken over the reins of the series from Chris Columbus. "Lots of nudity. And lots of sex." Relax, he's joking.
Editor's Note: Don't miss the audio link halfway down the page. I'm listening to it now, and it's worth a click – more commentary on the young actors, more on Cuaron, more on Columbus, and, according to this, confirmation that the next director will be someone new.
Editor's Note 2: Love the comment about the candy jars.