Fourth Movie To Be No Longer Than First Two?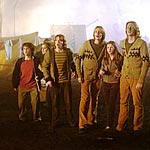 Aug 14, 2003
Uncategorized
From CBBC Newround:
Many people reckoned the hefty 636-page book would be split into two films, so Potter fans wouldn't be disappointed by losing their favourite scenes. But sources say Steve Kloves, who adapted the first three books, has been asked to make a single two-and-a-half-hour film.
If the final cut is to indeed be no longer than 2 1/2 hours, then we at TLC wish Mr. Kloves the best of luck – that's quite a job.
We'll keep you updated as we hear more.