Hogwarts Express Sets Fires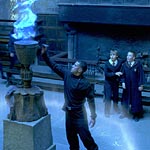 Aug 14, 2003
Uncategorized
From This Is York:
The famous Harry Potter Hogwart's Express train left a trail of fire behind it as it steamed along the York to Scarborough line.
North Yorkshire Fire and Rescue Service said a faulty cinder box had meant red hot cinders were spilling out on to the bone dry trackside.
Thanks to Simon for the link!