A Harry Analysis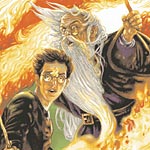 Aug 22, 2003
Uncategorized
The San Francisco Bay Guardian offers this essay, comparing Order of the Phoenix to Alice Sebold's The Lovely Bones:
Rowling's artistic achievement is as extraordinary as her sales figures. Rather than offer readers a Sebold-style imaginary escape from death's reality, the Harry Potter books admonish readers to face that reality squarely. Sebold sells adults a childish fantasy; Rowling offers kids a serious dose of grown-up reality.
Thanks to Mimi for the link.