Harry's Mum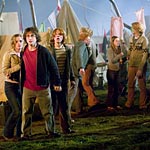 Sep 21, 2003
The Times has an interesting 'day in the life' article with Marcia Gresham, Harry Potter actor Daniel Radcliffe's mother. You must register to view, but here are a couple of snippets:
Dan was never desperate to act and I wasn't keen to push him. He's been incredibly lucky. It sounds a cliché, but working on Harry Potter is like being part of a big family. After a break between films he can't wait to get back. If I'm not casting I share the chaperoning, so we all enjoy what Dan's doing to the max. To be honest, Warner Bros make our lives easy. They provide a brilliant tutor; they even delayed filming the latest film so he could start at his new school and have one term of being normal.
Around 4pm the doorbell often rings and a little voice says: "Does Daniel live here?" I say, "Yes," in a tone that will make them never, ever, come back. They say: "But we've got a present for him." And I snap: "Well, put it through the letterbox!" The fans know our address, the names of the dogs, the colour of our walls. I find the level of obsession bizarre. Dan barely notices.
Thanks to Sandy and Cressida for the links and for the text!