Opinion Piece: Harry Potter Books Help Kids Cope with Fear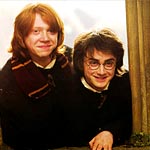 Jun 20, 2004
Uncategorized
In an opinion piece in the Sydney Morning Herald, Patricia Edgar, founder of the Australian Children's Television Foundation, writes that the Harry Potter books help children cope with certain fears.
The original fairytales and the Harry Potter stories give children much-needed hope that the gremlins under their beds and the monsters in their cupboards have forms and faces, and there is a champion who can best them, if not by thoughtfulness, co-operation and reason, then by the sword. What children urgently need from children's stories is not simply lessons in co-operative living, but lessons in resilience and the life-saving assurance that one can succeed – that monsters can be slain, injustice remedied, and all obstacles overcome on the hard road to adulthood.
Thanks for the tip Ali!