J.K. Rowling up for book award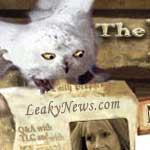 Jan 14, 2004
Uncategorized
J.K. Rowling and her novel "Harry Potter and the Order of the Phoenix" is up for an award from bookseller WH Smith. A spokesperson for the awards said the themes of isolation and death as Harry matures made this book a contender. Also on the short list:
The Curious Incident of the Dog in the Night-Time, by Mark Haddon
Dancer by Colum McCann
Nobody True by James Herbert
A Question of Blood by Ian Rankin
Read more in this article from The Guardian.
Thanks to the many readers who sent this in!