PoA Shortest of Three Movies?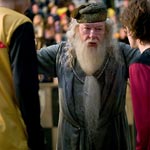 Jan 21, 2004
Uncategorized
CTV.ca reports that PoA is under 2.5 hours, the shortest of the three HP movies so far:
Harry Potter fans who want to see every detail from the books translated into the screen versions might be uneasy over the projected length of Prisoner of Azkaban: less than 2½ hours, the shortest of the series so far.
This time, Rowling's story lent itself to a tighter script than the first two movies, said director Alfonso Cuaron, whose previous movie was the racy hit Y Tu Mama Tambien.
That interview was taken from a longer Associated Press story, which also included this quote:
I'm sure that somebody is going to miss something very specific that was ingrained in his or her mind when they read the book. But I think fans are going to love the movie,"Cuaron said.
Thanks Amy!