Set Report Part One!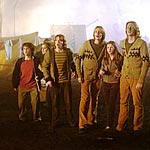 Jan 22, 2004
Uncategorized
The first segment of TLC's Prisoner of Azkaban set report is up and going, so I hope you enjoy! In this segment is a bit of an overview and an all-new interview with Daniel Radcliffe, Rupert Grint and Emma Watson. Quotage:
Q: How did you get on with the cat playing Crookshanks?

[Instant groans from the boys.]

Emma Watson: Oh, I love my cat! They are so rude to my cat!

Ruper Grint: It's the ugliest cat.

Dan Radcliffe: It looks like it's been thrown against the wall at birth.

EW: Okay, so it's got a flat nose.

DR: It doesn't have a nose! It's just 2D! It's like the cartoon cat!

EW: It's beautiful in its own ugly way.

DR: Notice the word UGLY.
More fun inside and a lot more about the set coming soon, including an interview with Robbie Coltrane!