Potter Conference: Is Harry Christian?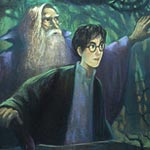 Nov 01, 2004
Uncategorized
St Andrew Orthodox Christian Church at California Baptist University is having a two-day conference on Friday, November 19th called "Is Harry Potter Christian?" John Granger, the author of Hidden Key to Harry Potter: Understanding the Meaning, Genius, and Popularity of the Harry Potter Books (Zossima Press, 2003) and Finding God in Harry Potter (Tyndale, 2004), will debate in favor of Harry; Richard Abanes, author of Harry Potter and the Bible: The Menace Behind the Magick (Horizon Books, 2001), will speak against.
Thanks to Viola for the link!