Lightmaker Wins MAX Award for JKRowling.com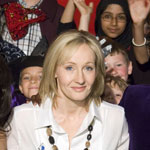 Nov 04, 2004
Uncategorized
Lightmaker has won the 2004 Macromedia MAX Site of the Year Award, a prestigious award in Web design, for their work designing and creating the JKRowling.com.
The award is in the Media, Entertainment and Gaming Experiences category and was given out in New Orleans, USA. It is a highly-coveted design award. Congratulations!
The press release says that J.K. Rowling.com has received 500 million hits since its debut in May.
For a overview of the site and the work and challenges involved in its creation, you can view this Flash presentation. A few details of interest include:
*The site is built with Macromedia Coldfusion MX, with a Flash MX 2004 front end interface
*It's written in Jo Rowling's own words and is currently translated into six different languages
*The site has transferred around 5 terabytes of data (roughly the equivalent of the printed matter in 5 million books).
*16 million of those 500 million hits were in the 12 hours after the announcement of the next book title, Harry Potter and the Half-Blood Prince
*The site has been visited by 270 regions, with the United States being the most popular
Thanks to Diane and April for the link!