GIVE A GALLEON: Get a Clue 3!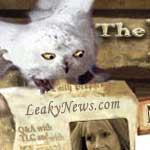 Dec 03, 2004
Uncategorized
It's that time again! TLC's Third Annual Get a Clue drive is here!
Last year, we sold more than 800
T-Shirts, and through your generosity we were able to donate more than $6,000
to Book Aid International
on behalf of Potter fans worldwide.
This
year, we hope you have your Galleons ready. Our very-limited edition TLC
sticker (seen on the left, click for larger) is only one galleon each
– at CNN's latest figure, that's roughly $4.82 USD. Our designer John has fashioned this
sticker (which you can get in standard adhesive or static, which sticks to windows)
after the ever-so-popular "Euro" sticker, and, well, we just think
it's cool.
So, it's Give a Galleon time at TLC. You give a Galleon, get
a sticker, and send books to people who need them, all at once! Every dollar
above cost will go to aid Book Aid International in their fight to bring literacy
to underdeveloped nations. Harry Potter fans, through Leaky, Inc., are
responsible for purchasing more than 13,000 books -$30,000 – in the last two years.

These stickers are in very limited supply. Following last year's
800 in sales, we only ordered 1,000 of these to start. If you
want to be sure to get your order from the first batch, order now. We can't
guarantee orders from a followup second batch will make it to you in time for
Christmas.
As the stickers are very light, your shipping is included in the price of your
item. However, there is a very small handling cost (for envelopes and packing
tape).
How to order:
The easiest way to order is by PayPal – especially for international
users, as PayPal will help you convert your currency. NEW THIS YEAR:
You don't need a PayPal account to use PayPal; just click on which type of sticker
you want and adjust the quantity in your shopping cart. Use the buttons below:
To send a check or money order, do so to:
Leaky, Inc.
P.O. Box 40559
Staten Island, NY 10304
Make sure you include a note containing your order, and that you include
your correct address and e-mail so that we can contact you with any problems.
We ask that you add $1 for every order under $50 and $2 for every order between
$50 and $100, to pitch in for envelope costs. If you are ordering from abroad
we ask that you calculate your total in USD, and then convert it to your currency.
As the stickers are very light, your shipping is included in the price of your
item. WE MUST receive these checks/money orders by December 13 to ensure
shipping.
If you'd like to donate without ordering a sticker, please
do! We are constantly humbled by the generosity of the fans of this site and these
books. If you'd like to donate through PayPal, please do so using this button:
And if you can't order or donate, you can still help by getting
the word out to your friends, your families, your favorite sites, the press
in your area, and by displaying the icons, buttons and banners we will provide
to you shortly! Thank you to MuggleNet, HPANA, HP4U and everyone else for supporting us!
Hey, wait a second. Why is this called "Get a Clue"? This has nothing to do with clues!
We know. Every charity drive we organize will be called "Get a Clue," at least in part, in honor of our first, amazing drive that aimed at collecting enough money to bid on and win a card on which J.K. Rowling had written clues to what was going to happen in book five. We raised $24,000 in eight days and enough holiday cheer for it still to create warmth, three years later – if not enough to win the card. It is that drive that incited a yearly event, and so we honor it by always calling our efforts "Get a Clue."
A Refresher Course on Leaky, Inc.:
With not-for-profit status, we can solicit contributions and donate as one.
You may visit this
website to look us up to ensure that we are indeed Leaky, Inc.
THIS DRIVE WILL ONLY BE OPEN UNTIL DECEMBER 18.
The past two years of holiday drives on TLC have been immeasurably
gratifying for everyone involved. Give a Galleon. Keep up the good fight. Let's
make this year's drive our most successful yet! Happy Holidays, and get ordering,
because supplies are going to go fast!