IGN Filmforce Interview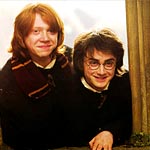 Feb 16, 2004
Uncategorized
Thank you for the many emails we've received expressing concern that IGN Filmforce's interview with the Trio was "stolen" from our set report. We appreciate it but don't worry – the interview was not stolen. If you look at the interview you'll note that some questions are marked "TLC" and others "Q" – this is because we were at a roundtable interview, and I did not ask all the questions. The very sweet Steven Horn from Filmforce was also there, and has every right to use the text of the full interview.
Before you ask, I promise, there is more coming soon.

Thanks for your patience!