Update: New POA Trailer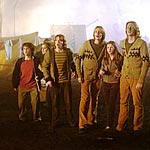 Feb 17, 2004
Uncategorized
We now have a description of the new POA trailer that just aired on the BBC. Included are scenes of Harry attacking Draco while under his invisibility cloak, Dumbledore looking at the shredded Fat lady portrait, Harry yelling 'Expecto Patronum', and Draco sliding down a hill wearing a furry hat.
TLC reader Phil sent in a detailed description – click below to read.
Thanks very much Phil, David, and Lord Fishcake!
Quick view of the school choir
Dumbledore waving hand and lighting candle
Knight bus hurtling through streets
Harry looking worried in Magnolia Crescent (probably just seen large dog) (New)
Malfoy blowing paper swan
View through archway
Ron and Hermione outside of Shrieking Shack
Dumbledore looking worried (I think its a view through the shredded portrait of the Fat Lady) (New)
New view of trio heading towards Hagrids hut.
Lupin jumping in front of Harry before he can confornt the Boggart in the DADA class (New)
Boggart Snape coming from wardrobe
The trio on the Hogwarts stairway (looking worried….again) (New)
Boggart Snape getting Nevilles Grandmothers clothes
Trio behind the pumpkins
Close up of Harry (new)
Sirius in cell
Snape protecting trio
Trio descending steps from Hogarts
Harry and Hermione hiding behind a tree (New)
Wanted poster
Harry talking to Mr Weasly in Leaky Cauldron
Malfoy sliding along on his backside outside the Shrieking Shack (new)
Harry lighting wand under bedclothes (If this is at the Dursleys isnt he breaking the law on Restriction of under age wizardry?)
Aunt Marge taking flying lessons
Hagrid stopping Buckbeak
Harry and Hermione running towards some stones
Ron and Hermione standing in the snow (Hermione has hand raised for some reason) (New)
Invisible Harry swinging Malfoy on end of scarf outside of Shrieking Shack ( New)
Zoom in of Harry in forest looking anxious (new)
Panning shot of DADA class they are avoiding a yelow blob (new)
Sirius being restrained in prison (new)
Harry producing his patronus (all you see is light from patronus illuminating him (new)
Carriage door on train opening and dementors hand
Harry Potter title screen