J.K. Rowling Nabs W.H. Smith People's Choice Award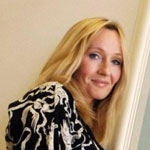 Mar 16, 2004
Uncategorized
J.K. Rowling's adult readers have chosen her over Ian Rankin, James Herbert, Colum McCann and Mark Haddon for the WH Smith's People's Choice Fiction Award for Harry Potter and the Order of the Phoenix. Rowling said she was "honoured" and that "unabashed adult Harry Potter fans are very, very dear to my heart and obviously in the case of The Order Of The Phoenix they were the ones who were physically able to lift the book"
Also winning awards: Monica Ali, for Brick Lane in the Debut Novel category; American writer Richard Powers with The Time of Our Singing in the Literary Award category, the only one in the awards to be decided by judge, and Terry Pratchett for The Wee Free Men in the Teen Choice category.
This is not J.K. Rowling's first adult prize, but it's the first time being adult is a criterion for the book's submission. The awards are in their 45th year; this year more than 130,000 votes were registered.
Thanks to the reader who submitted this news!
Update: There is now a CBBC article on the win.