USA Today Article on PoA Movie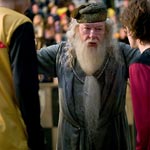 Mar 18, 2004
Uncategorized
USAToday has up an article on Prisoner of Azkaban, which discusses how the characters – and the young actors and actresses – have changed since Chamber of Secrets:
He's still a wizard, of course. He still attends Hogwarts, and Ron and Hermione remain his best pals. He continues to wear those dorky glasses. But the kids are lankier, their hairstyles cooler, and they spend more time in jeans and sweatshirts than in their school robes.
"It took me three films to get Hermione in jeans," says Emma Watson, who plays her. "To get out of the robes with the tights and the itchy jumpers. Whoo-hoo!"
Be sure to check out Trelawney in the photo gallery, and thanks to Amy for the link!