How J.K. Rowling Got Her Start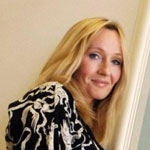 Mar 21, 2004
Uncategorized
From The Scotsman:
In a radio interview reported to be broadcast today (was this the BBC interview from earlier last week?), J.K. Rowling speaks about a monetary gift from a friend that allowed her to write the first Harry book:
The episode occurred when Rowling, now 37, was living on benefits in a rundown flat in Edinburgh after leaving her first husband. She had won a place to become a student teacher but could not afford childcare for her daughter, Jessica. Then, at her lowest point, the friend gave her a £4,000 loan to carry on studying.
"I was living on virtually nothing. Income support in those days was just under £70 a week. I was getting full housing benefit so my rent was being paid, but out of that £70 obviously came everything – clothing, food, utilities – and then I was looking at buying the textbooks and all the equipment you need to study.
"I had been teaching abroad and wanted to qualify for teaching over here. I very much felt that I was on the scrapheap and I desperately wanted to work."