EXCLUSIVE Sneak Peek: HP.com Set to Unveil New Design Today, Including New Trailer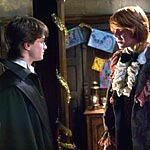 Mar 24, 2004
Uncategorized
The new and improved HarryPotter.com, which we previewed last month, will reveal its new look today, . The site will include the brand-new, much-hyped trailer which goes live early this evening (the 5pm was a misunderstanding on my part – my bad). Here at TLC we bring you a sneak peek, so check it out – including our first glimpse at (naturally!) The Leaky Cauldron set used in this film.
The Leaky Cauldron
Hagrid, Dumbledore and Snape
Harry, Ron, Hermione
The Marauder's Map – which is based on the movie's, but is not directly from the movie.
Enjoy!