Welcome to the New TLC!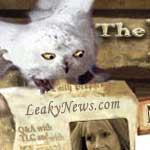 Mar 06, 2004
Uncategorized
Ah. That's more like it, isn't it? Welcome to The Leaky Cauldron v. 4.0. We've had a bit of a renovation, so pull up a barstool and relax. Be careful as you poke around; there may be some snags in the carpet or paint splotches on the walls. Let us know if you trip across a broken link or outdated page, and we'll try and fix it.
We have 19-year-old designer John Noe to thank for our snazzy new look; back in October he started tooling with Natalie McKeever's excellent design and sent us a screen grab of what he came up with in November. Editor Megan and I were working on Get A Clue 2 when we got the email, and both of our mouths dropped – it took us about six seconds to demand an HTML mock-up from poor John, whom we've put through the ringer ever since.
John and Natalie will now be working together as Leaky's design team. Here's some more info about John:
John Noe is a 19 year old college student and proud to be the newest member of the team. He is a self-employed, self-taught Web and graphic designer, and has been constructing and revamping Web sites for local schools and businesses since he was 15 years old. After discovering Harry Potter (with the help of his HP-fanatic sisters Allison and Anna), he wanted to design a related site, but time had never allowed it until recently. John is very excited to share TLC's new look with all the loyal Leaky readers.
Welcome, John, and welcome everyone to the new TLC!