GOF Casting Director Mary Selway Dies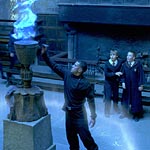 Apr 26, 2004
Uncategorized
British casting director Mary Selway has died after a long battle against cancer. She was currently working on casting GOF with director Mike Newell when she passed away. Considered something of a legend, she received a BAFTA award in 2001 for her contributions to British film.
Helmer Mike Newell, with whom she was working on the fourth "Harry Potter" when she died, said, "Once she had taken something on, she bit into it and never let it go. She believed in every film she did very fiercely, and sometimes her willpower was the only thing that made them happen."
Read more about Mary Selway and her career here.