Daniel Radcliffe in The Manila Times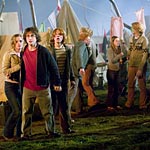 Apr 29, 2004
Uncategorized
HPANA has a link to a Manila Times interview with Daniel Radcliffe, in which we learn, among other things, that if you need something found, Daniel's your guy:
Q: Can you tell us about your friendship with Emma and Rupert?
Daniel: The bond just keeps getting stronger and stronger. We do have arguments-err, heated discussions-I mean. We never argue! Okay, we do argue sometimes, about stuff like making a crazy golf course out of card-board. There is a circular saw in Rupert's room at the moment which I got. I'm like the scrounger, I can get you anything.
Thanks to HPANA for the link!