PoA Review!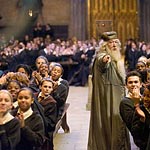 May 19, 2004
Uncategorized
Dennis, a Time Warner employee who was treated to a PoA screening, just sent us a spoiler-free review of PoA that sings the film's praises to the level we all hoped it would. The movie has so much atmosphere, "it almost seems as if Tim Burton might have directed it," he says. Read below if you want to know more!
Also, he says Ian Brown of the Stone Roses is spotted in the film, and is sitting in the Leaky Cauldron reading Stephen Hawking's A Brief History of Time. There have been debunked rumors about Brown's presence, but Dennis says he could pick Brown out of a crowd. So, keep your eyes peeled when you so the film to see if you agree.
First, let me just say that the movie is BRILLIANT. Finally – a Harry Potter movie that captures the true spirit of the books without being so literal that it might bore those unfamiliar with the books. The look, the feel and the approach are
completely different from the two previous films. The sets and settings are very
realistic. No more kiddie stuff. The movie is very GOTHIC. Loads of atmosphere …it almost seems as if Tim Burton might have directed it.
I liked the first two films – don't get me wrong … but, I never felt that they were as good as they should have been. A lot of that I believe came from Chris
Columbus' slick "Hollywood" style directing. I always thought that a director with more of an "Indie" film background would be better suited to direct these movies. Alfonso Cuaron delivers … BIG TIME! Everything is better! The storytelling, the acting, the music and even the special effects.
The three principals have grown as actors … none of their lines are the slightest
bit forced or overdone … every line is delivered in very natural way. Michael
Gambon does a great job as Dumbledore … very different from Richard Harris' soft spoken approach … but, equally effective. Some people may be bothered by Alfonso's re-imagining of Hogwarts, The Leaky Cauldron, the Hogwarts Express, Hagrid's Hut, Professor Flitwick (new younger look), etc. But not me … I loved it. I think Alfonso got it all just right. The movie moves and keeps moving … there are no slow exposition scenes …. everything that needs to be there is there … no essential plot points are sacrificed.
This is the work of a truly great filmmaker. I can hardly wait to see it again.