New POA Clips Air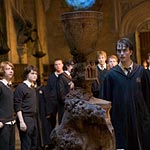 May 20, 2004
Uncategorized
Several readers have written to say that new clips from Prisoner of Azkaban aired tonight during E! News Live , and Access Hollywood. Kate, from HarryLovesHermione.com managed to get some screencaps of the new scene shown on Access Hollywood of Stan and Harry on the Knight Bus. Reader Jill also sent in her desciption of the clip, which you can read below. The E! News Live clip , readers Katya and Coral tell us, involved Lupin and the Dementors on the Hogwarts Express (read more below). E! News Live re-runs tomorrow(Friday) at noon. Thanks to everyone who wrote in!
Reader Jill-Access Hollywood POA Clip:
Harry had just gotten on the Knight bus and was having a conversation with Stan, asking him if the Muggles could see them, and Stan replied with something such as "Well Muggles don't really see anything do they?". I can't remember the exact dialogue. What I do know is that we hear dialogue from the shrunken head as well… he's a joker, this one… says something about pea soup in the Leaky Cauldron, and how one should eat the pea soup, before the pea soup eats you. The clip ends where the head says "Little old lady at 12:00!". You really get to hear the music of John Williams this time, and I think it goes beautifully.
Reader Coral -E! News Live POA Clip:
at the hogwarts express. starts with Ron
saying that Sirius Black escaped Azkaban to come after harry, the train stops, they wonder why, harry goes out of the compartment, the floor rattles and he comes inside again (lupin sleeping is beside harry covered by a cloak) the lights go out and the dementor opens the door- the clip ends.