E!, Extra and Access Hollywood Footage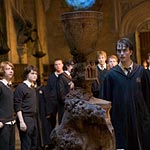 May 21, 2004
Uncategorized
The wondrous Cinderz has again come through: here is the footage shown on tonight's E! and Extra PoA specials:

E! News – (5 MB .mov) – A Dementor boards the Hogwarts Express
Extra – (1.6 MB .mov) – Hagrid putting Harry on Buckbeak
Remember to right-click and "save target as" to see the files.
Update: Jenna from DanRadcliffe.com has uploaded the Access Hollywood clip, which is a scene from the Knight Bus.