And now for the REALLY big news!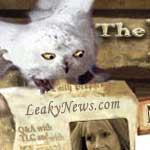 May 22, 2004
Posted by Melissa Anelli
Uncategorized
Hi everyone. It gives me such tremendous, heartbreaking joy to announce that this morning, William Kirk DeLong, the first child of our wonderful editor-in-chief, B.K. DeLong and his wife Kirky, was born. He came to the world at 6:15 a.m., at a healthy 7 pounds and 14 ounces. Mother and baby are doing very well…probably better than this editor, who's crying too hard to type. Congratulations, BK and Kirky – we love you. William – welcome to the world, kid. We love you too.