Daniel Radcliffe in Parade Magazine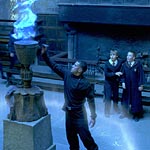 May 22, 2004
Uncategorized
Daniel Radcliffe is featured in Parade Magazine, which can be found in newspapers on Sunday. There is an article called "In Step With..Daniel Radcliffe", and there are some good new photos of the actor as well.
Says Daniel: " It's too far down the road to decide about a fifth movie. I'm still the the same age Harry is, and I haven't actually grown that much."
Click here to view the photos. Thanks Nancy and Jennifer!