Devon Murray Interview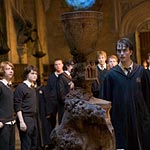 May 24, 2004
Uncategorized
CBBC Newsround has an interview with Harry Potter actor Devon Murray, in which he mentions a favorite part of the new film:
We're all in the boys' dorm room at the beginning of the film. It's the first night at Hogwarts and you get to see Harry Potter having some fun. We're all throwing sweets around and every time we eat one we turn into different animals.
Thanks to Joya for the link!