Outgrowing their roles?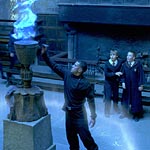 May 25, 2004
Uncategorized
The New York Post reports that producer David Heyman spoke yesterday of the inevitability that the young HP stars will outgrow their roles. "There will come a point when one, two, or all three of them will move on," he said. "I don't know when that will be – with the fifth, sixth or seventh movies – but it's inevitable."
TLC readers should be reminded that this is the same sort of speculation the HP filmmakers always make. It doesn't mean anything definite, no matter how many publications make a headline out of it.