LA Times Interview with Rupert and Emma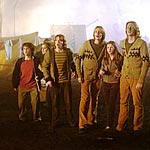 May 08, 2004
Uncategorized
Dan Radcliffe.com has posted a new interview with Rupert Grint and Emma Watson from the LA Times that includes this new photo.
When talking about a possible Ron/Hermione relationship, Rupert Grint says:
"Grint agrees that the new film offers more scope. "There's a story line developing between Ron and Hermione," he reflects.
"It's like a little thing going on between them, and there's a lot of awkward moments in this third one. A few hugs. And we fall out a lot as well. Alfonso thought that was a replacement for our relationship."
Click here to read the article. Thanks Jenna!