Leaky Mention in Sydney Morning Herald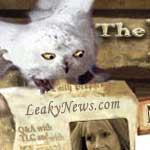 May 08, 2004
Uncategorized
In an article that suggests a few websites to catch up on the latest Harry film news:
Fan site The Leaky Cauldron contains regularly updated news about anything related to The Prisoner of Azkaban and the actors in it, as well as detailed accounts from a visit to the set by a (suitably excited) member of staff. Her accounts include interviews with cast members, tidbits about settings, observations about the director, Alfonso Cuaron, and his influence on the film.
The site has links – for those who are interested – to the Lexicon, a Potter encyclopedia of sorts, which has information about wizard history, spells, potions, maps and the strange beasts of J.K. Rowling's imagination.
Potter site Mugglenet is also recommended. Thanks, Vicki, for the link!