AP and Harry Potter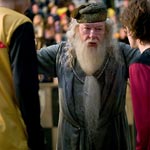 Jun 02, 2004
Uncategorized
The Associated Press has this interview with actor Daniel Radcliffe:
AP: I've heard you're a film buff. Are there any particular actors who influenced you?
Dan: One of them would definitely be Gary Oldman . That was amazing to be able to work with him (on this movie). I think people like Tobey Maguire and Christina Ricci and Elijah Wood , actually, because they were all child actors. When you say child actors, everyone thinks Macaulay Culkin . Macaulay Culkin has actually now come back as well, he's been great. They were all child actors and they all turned out to be some of the most amazing actors of their generation. Christina Ricci is unbelievable. I think I kind of look up to them.
Also, The Associated Press has posted this preview of the film in an aricle called "Harry Potter Matures in Darker Third Film."
Finally, the AP review of the film called "Potter Tale Takes Darker Turn."