Could Harry Get an Oscar?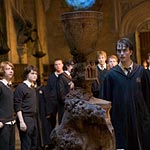 Jun 21, 2004
Uncategorized
Hollywoodreporter.com is already discussing Oscar and Golden Globe possibilities, and mentions the latest Harry Potter film:
Warner Bros.' "Harry Potter and the Prisoner of Azkaban," directed by Alfonso Cuaron, attracted very favorable reviews, many of which called it the best of the three "Potter" films to date. Cuaron, an Oscar nominee for his original screenplay for "Y tu mama tambien," could get a directing nomination. Screenwriter Steve Kloves, who received Oscar and Golden Globes nods for adapting "Wonder Boys" and also got Writers Guild of America nominations for "Wonder" and his original screenplay "The Fabulous Baker Boys," could receive new noms for "Azkaban."
John Williams' well-reviewed "Azkaban" score, too, could get nods from Academy and Hollywood Foreign Press Assn. voters. Williams has received so many Oscar and Globe nominations (along with a few wins, too) over the years that the list is too long to include here. It goes without saying that you're probably not going to lose money by betting on Williams' score to be nominated. The film's visual effects are obviously also good grist for the awards mill. And if "Azkaban" casts all the right magical spells it could conjure up both a best picture Oscar nomination and a best motion picture — drama Golden Globe nomination.
Thanks to Charlie Rose for pointing out the story, and to Veritaserum for the link.