JKRowling.com Update: Why the Book Title Is Almost Positively Fake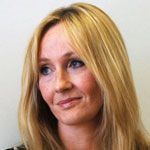 Jun 27, 2004
Uncategorized
I was fooling around with the links from the old "hack" of JKR's site and the links people have been sending us to the door without the "Do Not Disturb Sign" – and came up with this. Go here (if nothing happens, right-click and press "Play").
The book with the placeholder text shows up. Note the overwhelming differences between this book and the one in the "Book 6 Title" video. For one thing, it's not on a desk but simply on the site; for another, there is nothing pink anywhere on it. It's a totally different book.
The book that claims to have the title was fabricated, unless JKR asked for a redesign of this portion from the link she already acknowledged contained placeholding text, and then made that redesign completely mismatched with the rest of her site…the Book Six Title rumor is most definitely fake.
It was fun while it lasted, though!

Can JKR possibly match the buildup that now surrounds what will actually be on this book? (Uh. Yeah. She can.)