ADMIN: Help Leaky – Server Woes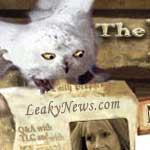 Jun 30, 2004
Uncategorized
We've finally done it. We've outgrown even the amazing generosity of Mantissa.net, who has been hosting us for free since our server exploded around, oh, 2001. Even with our main page a text-only, as it has been all month, we're more than 200,000MBs above our bandwidth limit. That we're still operating is only a testament to Mantissa's kindness.
With the book six title released, the news shows no signs of slowing; it's a busy time for Potter fans as always and we want to continue to be your number one news source.
So the time has come for drastic measures. Begging.
What Leaky needs most of all is a dedicated server, and they are not the least expensive of things. With a dedicated server (say the techies), we would only have to pay a nominal surplus bandwidth fee per month and avoid dragging down the pages with the dreaded pop-up and flashing advertisements.
So, you gazillion Leaky readers, is there perhaps one of you who has an extra one? You know, one sitting in your basement, going, "Do-de-do, I'm a server, and I'm serving no one?"

If so, would you be willing to sell it to us cheap?
This is what BK says we need (I'm copy/pasting, and have no idea what all this means; serverspeak to me is like magic to Filch):
Minimum:
1U server
2.6 Ghz, 512K cache
2GB RAM (upgradable to 4GB)
2 x 20GB Serial ATA
HD HARDWARE S-ATA RAID controller
Dell preferred 😉 (Which BK says is because they have a support/maintenance contract should the machine die.)
If you are able to help keep Leaky running, either by helping us get a good deal on a server or donating $ to help us acquire one, please drop us an email at staff@the-leaky-cauldron.org. We can offer chocolate frogs and some cast-signed photographs and lots and lots of love as gratitude.
For those wishing to mail in checks or money orders, send them (and make them out) to:
Leaky, Inc.
P.O. Box 7308
New York, NY 10150
Update: The emails are pouring in! So many of you have already asked how to donate that we're going to set up PayPal by the end of the day so that you can. Thank you SO MUCH. If we still do get a server cheap, any surplus will go to the monthly operating costs; any surplus over that will go to Book Aid, of course. You are all so amazing. Thank you.
Added the Paypal "quick fix" for those who want to donate now and we'll try to get a form on the right-hand section for more information.