More on the Australia Rating Controversy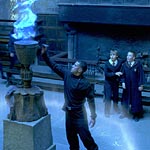 Jun 04, 2004
Uncategorized
Fandomer Liz Barr was interviewed on the Australia Broadcasting Commission's radio station earlier this week about Potter-y issues, including the 15 rating.
We looked over the justifications from the board, and learned that their reasons for determining a "horror" element in the film were varied; because they contain spoilers, we've placed them in the "MORE" section of this post.
"Horror elements" refers to depictions of creatures called Dementors, which are
guards at the prison of Azkaban, who suck the life essence out of humans. It also covers the depictions of
a character who transforms into a werewolf and takes part in a frightening fight with a black wolf during a
pivotal scene in the film, before stalking Harry and Hermione through a dark wood in a later sequence.
Another character turns into a giant spider before transforming into a Dementor.