Fan Fiction in the News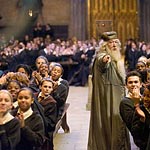 Jun 05, 2004
Uncategorized
The Miami Herald has an article about the popularity of Harry Potter related fan-fiction on the internet. Titled "Harry Loves Draco ? Only in Fan Fiction" , the article contains an interview with Leaky's own Heidi Tandy, who is also a co-founder of Fiction Alley.org, one of the largest fan-fiction sites on the net.
Writing about another author's characters is more than just a lazy way to make the story come out the way you want, she explains. 'I wanted to be able to enjoy reading the books surrounded by other people, even virtually. But Goblet of Fire [the series' fourth book, published in 2000] extended the universe and gave us so many puzzles to think about. And as we waited and waited and waited for book five, fan fiction became an interesting way to explore the story.
FictionAlley opened its virtual doors in 2001, and Tandy, who had worked on one of the first online legal message boards and the initial phase of The New York Times website, says it was up and running in seven weeks. These days she spends about 20 to 25 hours a week on the site, which features discussion groups as well as stories archived into four houses, a predictably Hogwartsian touch. TheDarkArts offers mystery and drama; Astronomy Tower hosts romance of all sorts, although anything that would earn an NC-17 rating is forbidden; Riddikulus features humor; Schnoogle is the place to find novel-length works. Only stories in English are posted, though writers can link to work in other languages.
Registration is required (free!) to read the entire article.