David Thewlis Interviews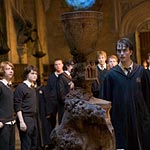 Jun 08, 2004
The Sydney Morning Herald has a short piece with Prisoner of Azkaban actor David Thewlis, in which he comments on his three young co-stars:
Thewlis, who joined the cast as Professor Lupin for Harry Potter and the Prisoner of Azkaban, thinks it will be difficult for them to have acting careers outside the series.
"The most likely is Rupert," he said. "I think he's the most natural actor. He's the oldest of the three. I can imagine him moving on. Emma's the same."
It will be tougher for Radcliffe, who plays Harry, to avoid becoming the Mark Hamill of his generation, typecast as Luke Skywalker to the point of hardly getting another decent role.
"Someone is going to have to make a brave casting choice to give him something that takes him away from Harry Potter," Thewlis said. "Or he's going to have to shave his head and grow a beard … to get away from it."
The site also has a video interview with David Thewlis – click 'Playing Professor Lupin' in the 'Related' box on the same page.
Thanks to Joy and to SiriuslyPeeved for the links!