Le Monde, The Times, and Harry Potter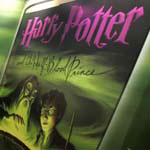 Jul 18, 2004
Uncategorized
Earlier this month we told you about reaction to an article that appeared in the French periodical Le Monde, where a scholar called the Harry Potter books… a capitalist universe", stuffed with "neo-liberal stereotypes" which caricature approvingly the "excesses of the Anglo-Saxon social model". The New York Times( registration required,but free) has now translated that original piece from Le Monde. In response to all of this, The Times of London has published an op-ed piece about the scholar's debate over the Harry Potter novels.
It is a measure of Rowling's unprecedented success that Harry Potter has become so deeply embedded in the culture that adults feel obliged to find more in the books than meets the eye. When scholars, linguists, analysts, anti-racists, Jungians, Freudians, Jungian-Freudians, sociologists, lawyers, philosophers, psychologists and literary critics start clustering around a child's book, it is time to stop reading between the lines.
Much of the "scholarship" surrounding Harry Potter is unintentionally hilarious, virtually incomprehensible, and perfectly pointless. Yet, the phenomenon is fascinating for the way it exposes our preoccupations: adults have projected their own concerns on to these books, and the results say far more about us than about Harry Potter.