ADMIN: Server Update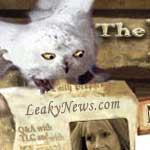 Jul 02, 2004
Uncategorized
BLUBBLE BLUBBLE
Everyone, your generosity is simply astounding. Thank you so much. We are still begging:
– so that we won't have to do this again for a long time.
Still, checks, money orders, cash (if you feel comfortable sending it), paper clips, bits of string, baby pictures, and old stamps welcome at
Leaky, Inc.
P.O. Box 7308
New York, NY 10150
(International M.O.'s are totally cool, and are better than international checks.)
(Kidding about the string, pictures and stamps. But really, you can't get enough paper clips.

We will have an update soon. So many of you have offered us server options, sever advice, server space, server alternatives, server everything, that we must start sorting and figure out the best route.
The past day has been mind-blowing with generosity in a way that has only been matched by the Get A Clue drives. If this keeps up, Leaky won't ever go anywhere – not when it has readers like you. So – thank you, from the bottoms of our hearts.